Mission: By carrying out high quality restoration, renovation and reconstruction works, to ensure the preservation and restoration of cultural monuments of national importance.
Vision: To be a construction and restoration company with modern and progressive views and methods of work, courageous decisions and solutions, excellent work culture.
Scope of activities: CONSTRUCTION, PERFORMANCE AND MANAGING OF WORKS ON ARTISTIC RESTORATION, RENOVATION AND RECONSTRUCTION, CONSTRUCTION PROJECT MANAGEMENT, BUILDING INSPECTION
Objective: To provide comprehensive restoration, renovation and reconstruction works of the highest quality, according to customer needs and requirements, and in accordance with the existing rules, norms and standards.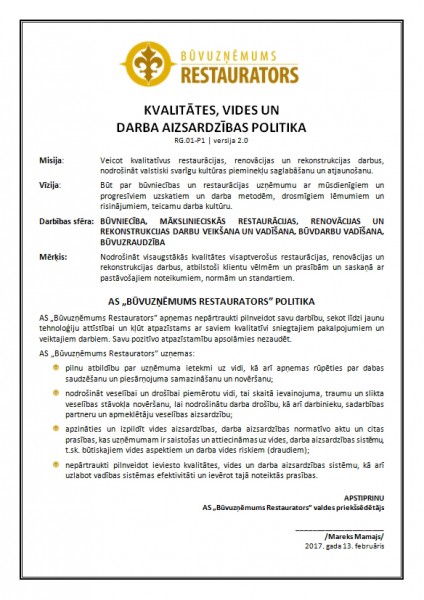 ***
AS "BŪVUZŅĒMUMS RESTAURATORS" POLICY
AS "Būvuzņēmums Restaurators" undertakes to continuously improve its functioning, to track the development of new technologies and to become recognized by its quality of services provided and the work carried out. We promise not to lose our positive popularity.
AS "Būvuzņēmums Restaurators" assumes:
full responsibility for the company's impact on the environment, as well as undertakes to care for nature preservation, also pollution reduction and prevention;
to ensure the environment, which complies with health and safety, including prevention of wound, injury and poor health in order to provide the occupational safety and health of employees, as well as health protection of co-operation partners and visitors;
be aware of and to comply with the enactments on environmental protection, labour protection, and other requirements, which are binding upon the company and are applicable to environmental, labour protection systems, including the significant environmental aspects and labour environment risks (menaces);
continuously improve the introduced quality, environmental and labour protection systems, as well as to improve the effectiveness of the management system and to comply with the requirements laid down therein.