Mission: To ensure the preservation and restoration of cultural monuments of national importance by carrying out high-quality restoration, renovation and reconstruction works.
Vision: To be a construction and restoration enterprise with modern and progressive views and working methods, as well as bold decisions and solutions, and excellent work culture.
Areas of ​​Activity: CONSTRUCTION, IMPLEMENTATION AND MANAGEMENT OF RECONSTRUCTION, RENOVATION AND RESTORATION WORKS, MANAGEMENT OF CONSTRUCTION WORKS, BUILDING CONTROL, RESTORATION OF WOODEN PRODUCTS
Objective: To provide comprehensive restoration, renovation and reconstruction works of the highest quality in accordance with the wishes of customers and the applicable rules, norms and standards.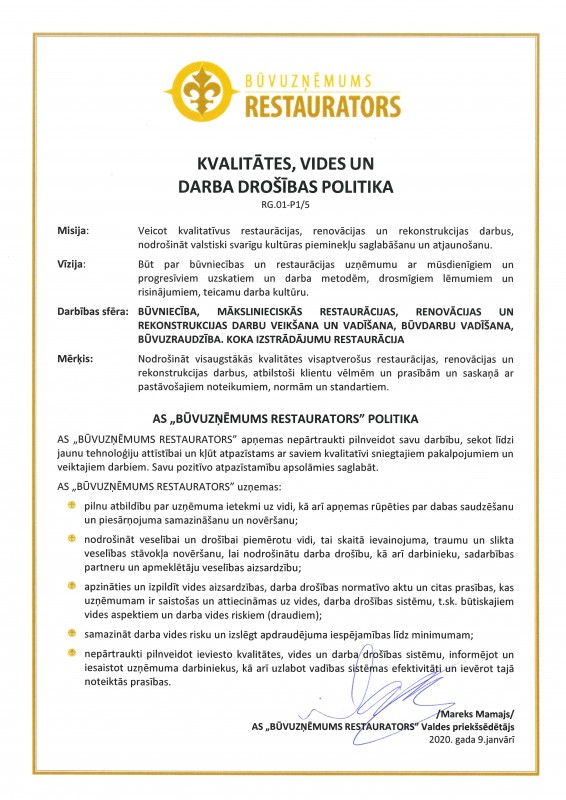 ***
AS "BŪVUZŅĒMUMS RESTAURATORS" POLICY
AS "BŪVUZŅĒMUMS RESTAURATORS" undertakes to continuously improve its activities, follow the development of new technologies and become recognizable thanks to its high-quality services rendered and work performed. We promise to keep our positive recognition.
AS "BŪVUZŅĒMUMS RESTAURATORS" takes over:
full responsibility for the impact of the enterprise on the environment, and also undertakes to take care of nature conservation and the reduction, prevention of pollution;
ensuring a healthy and safe environment, including prevention of injuries, trauma and poor health, in order to ensure labor safety and health of employees, partners and visitors;
awareness and fulfillment of the requirements of regulatory acts and other requirements in the field of environmental protection and labor protection, which are binding for the enterprise and relate to the quality, environment and labor protection system, including significant aspects of the environment and risks (threats) of the labor environment;
reducing the risks of the labor environment and reducing the likelihood of a threat to a minimum;
continuous improvement of the introduced quality, environment and labor protection system together with informing and involving employees of the enterprise, as well as improving the efficiency of the management system and compliance with the requirements established therein.
Mareks Mamajs
Chairman of the Board of AS "BŪVUZŅĒMUMS RESTAURATORS"
January 9, 2020
***