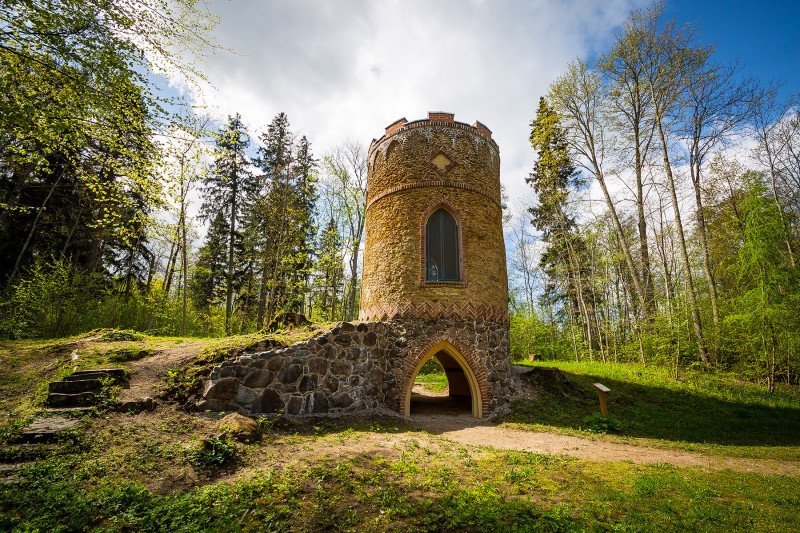 In the early 19 century a politician of the Duchy of Courland and Zemgale Karl Johann Friedrich von Medem (1762-1827) built a castle and began to create a picturesque park area of ​​26 hectares in the village Remte, which is located about 40 km from the town of Tukums (near the lake Remtes). In subsequent decades, the park has been supplemented by multiple objects of "small architecture", the most important of which is a hunting tower.
26 March 2015 the enterprise AS "Būvuzņēmums Restaurators" received a recognition in the nomination "Restoration" on the national competition "Best Building in Latvia 2014" for the renovation of this object.
Today the manor park and the architecture of Remte park is an architectural monument of national significance. It is believed that the estate in Remte is designed by German architect Johann Georg Adam Berlitz (1753-1837), who, thus, could be the author of the hunting tower also.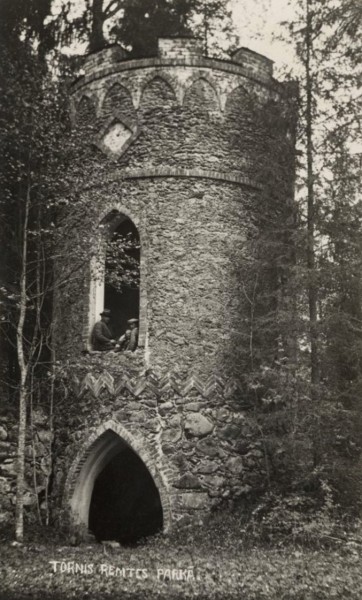 (Historical hunting tower in Remte. Photo: "ZudusiLatvija.lv")
After architectural and artistic inventory and study, a project of restoration of the tower was developed by SIA "Arhitekta L. Šmita darbnīca" in 2013. In its turn, the restoration itself, which was carried out by the enterprise AS "Būvuzņēmums Restaurators" and the craftsmen from the company SIA "Būvfirma INBUV" under the leadership of the responsible for restoration Juris Pavlovs, was completed December 12, 2014.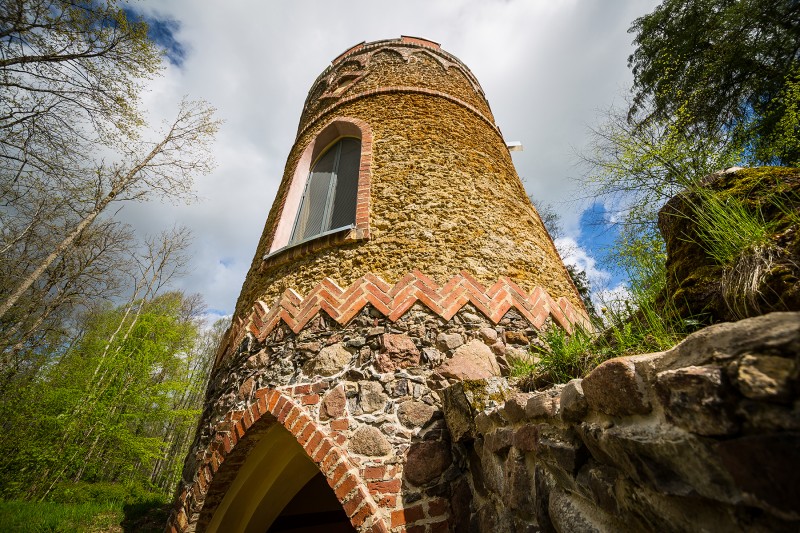 Hunting tower in Remte, also known as the travertine tower or round tower, was built in 1890. It was built of brick in neo-Gothic forms, and the outer walls of the tower were lined by travertine from the river Amatas. There are two floors in the hunting tower. There is a passable room with two apertures on opposite sides of the building on the ground floor. The room on the second floor has one door aperture with wooden doors and glazed overhead lighting, and three window openings with glazed wooden window blocks.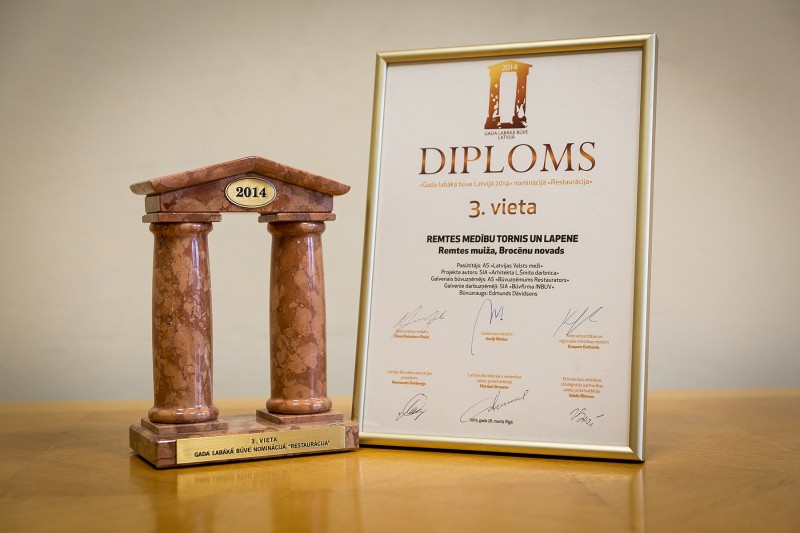 AS "Būvuzņēmums Restaurators" received recognition in the nationwide competition "Best Building in Latvia 2014" in the category "Restoration" (3rd place) on 26 March 2015. This award was granted for renewal of Remtes hunting tower and arbor located in Brocenu district, in Remtes park which is managed by VAS "Latvijas valsts meži" (state joint-stock company "Forests of Latvia"). The works were carried out in 2014.
Diploma is signed by: Latvian Minister of Economics Dana Reizniece-Ozola, Latvian Minister of Transport Anrijs Matiss (Anrijs Matīss), Minister of Environmental Protection and Regional Development Kaspars Gerhards, Latvian Builders Association president Normunds Grinbergs (Normunds Grīnbergs), Chairman of the Board of Latvian Association of Civil Engineers Martins Straume (Mārtiņš Straume), Chairman of Latvian Partnership of Building Contractors Valdis Birkavs.
---
* This article was prepared on the basis of the materials available on the resources: "ZudusiLatvija.lv", "Tournet.lv", "Arh-Smits.lv", "BuvLaukums.lv", "MammaDaba.lv" and "WikiPedia.org".