The work on expansion and modernization of the building of the Kurzeme district court in Ventspils has solemnly started with an aim of creating courtrooms that meet modern requirements and technologies. Construction works are scheduled to end in the spring of next year, and their total cost is expected to be about 2.4 million euros.
The new annex will have six courtrooms and workrooms for six judicial staffs. In turn, the total area foreseen for the needs of the court will increase from 650 to 1422,34 square meters.
"The court building in Ventspils was built in the 19th century. Of course, it visually corresponds to the architecture of the old city thanks to its historical heritage, but its functionality was far from modern requirements. Our task is to preserve the unique architecture and image of this building while at the same time achieving that the building itself and its new wooden annex are suitable and convenient for both employees and visitors," says the Chairman of the Board of AS "Būvuzņēmums Restaurators" Mareks Mamajs.
(Photo: Renars Koris)
"At the moment, the Kurzeme district court in Ventspils is located in two buildings where there is not enough space for courtrooms and working premises for the functioning of the court", – admits the Minister of Justice Dzinars Rasnacs (Dzintars Rasnačs). In order to ensure the organization of the work of the court and the accessibility of the court for visitors in conditions that meet the modern requirements, the state joint-stock company VAS "Tiesu namu aģentūra" (TNA) with the support of the Ministry of Justice has invested funds in the implementation of three large construction and restoration projects in Ventspils, Tukums and Jekabpils. The total investment in these three projects is about 11 million euros, of which 2.4 million – in Ventspils.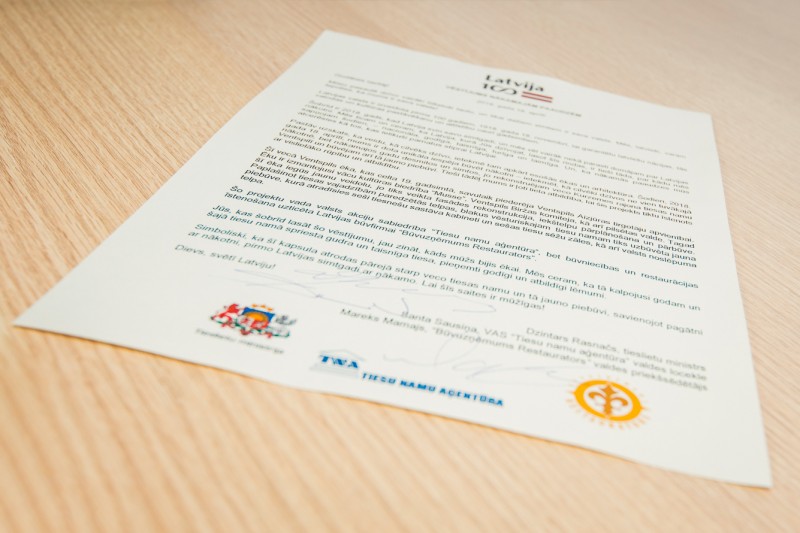 (To see the message to future generations, which was signed, placed in a capsule and solemnly immersed in the foundation of the building on April 18, 2018, please click on the picture)
"The goal of the project is to achieve positive changes in the day-to-day organization of work of the court building, improving working conditions and rising the efficiency of the court work, as well as safety, productivity and availability of services. Today all works are under way so that in the spring of next year the Kurzeme district court in Ventspils will function in new premises," says Santa Sausina (Santa Sausiņa), TNA Board Member.